3M Diamond Grade DG3 Reflective

Trusted Innovation To Protect Your Population
According to the Federal Highway Administration (FHWA), the rate of traffic fatalities is three times higher
at night than during the day.

One of the most important contributing factors is that nighttime drivers often lack the visual cues they receive during daylight. Optimal performance 3M Diamond Grade DG
Reflective Sheeting helps nighttime drivers get the critical visual information they need for a safer drive.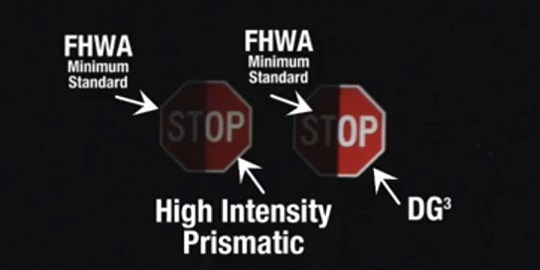 The visibility difference comes from 3M's "full-cube" microprisms that are nearly 100 percent efficient,
retroreflecting almost all the light that strikes them. When this technology is incorporated into Diamond Grade DG 3 reflective sheeting, it greatly increases the brightness of road signs, returning several times more light than glass beads and nearly twice as much light as truncated cube corner optics. 3M's full-cube construction
also accommodates the wide range of observation angles from different size vehicles and entrance angles.
Even signs in the most disadvantaged locations perform better with Diamond Grade DG 3 sheeting.